The mural adorning the Denver Central Market food hall is but typical of the riot of street art adding color to the River North Arts District. 
By Robert Vallera CCIM
• Using Pop Art to Improve The Streetscape
• Small-Scale Properties Enhance Neighborhood Ambiance
• The Risk Of Inattention To Scale and Design
• The Trap Of False Economy
Street Art Drives The Vibe
What was that catching my eye, down a long entry court to the alley, beyond a row of townhouses? These townhouses in Denver, Colorado were modern and attractive, but definitely not what drew my eye. It was the graffiti art spray-painted on the back wall of the aged industrial bays located across the alley from the townhomes. That's when I saw them, the artists, or ah, the vandals, or are they artists?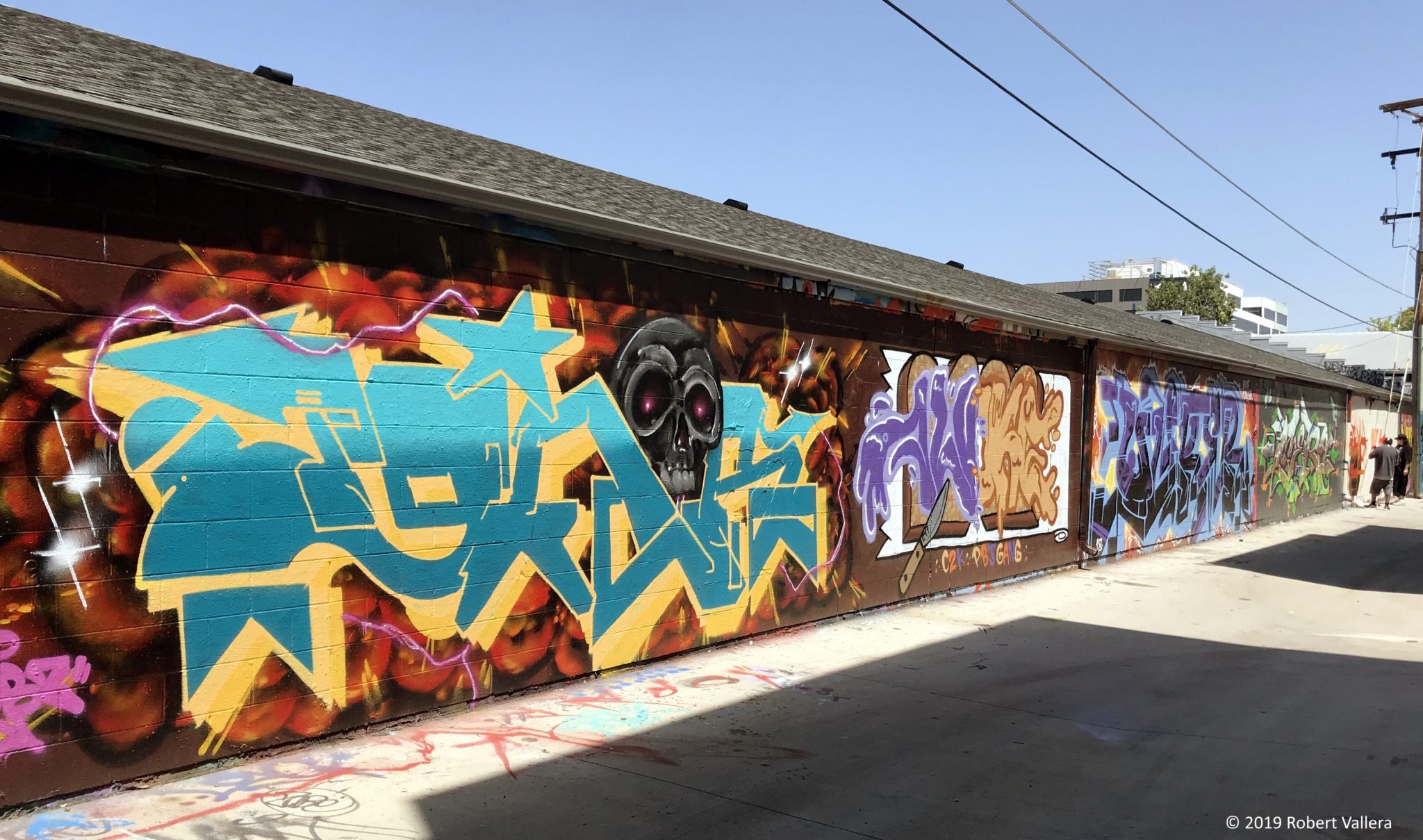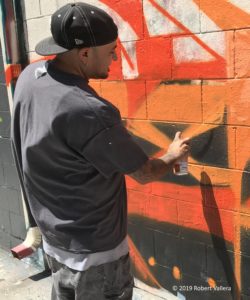 There they were, caught in the act with spray paint cans in hand in broad daylight, noontime on a warm summer day. They were casually, um, ornamenting another section of wall. I walked down the courtyard to the alley, complimented their artwork, and made the acquaintance of Carlos Guerrero.
If this isn't a small world. It ends up that Carlos previously lived within a block or two of a couple of my own apartment properties in the hipster-haven of North Park in San Diego. Over the past decade, Carlos had migrated out to San Diego where he had owned a tattoo parlor in the neighborhood of Pacific Beach, before moving back to his home town of Denver. Spying a stash of spray cans set on the alley pavement behind the open trunk of a car gave me an opportunity to tease Carlos about his street-cred as a tagger… the car was a Mercedes-Benz.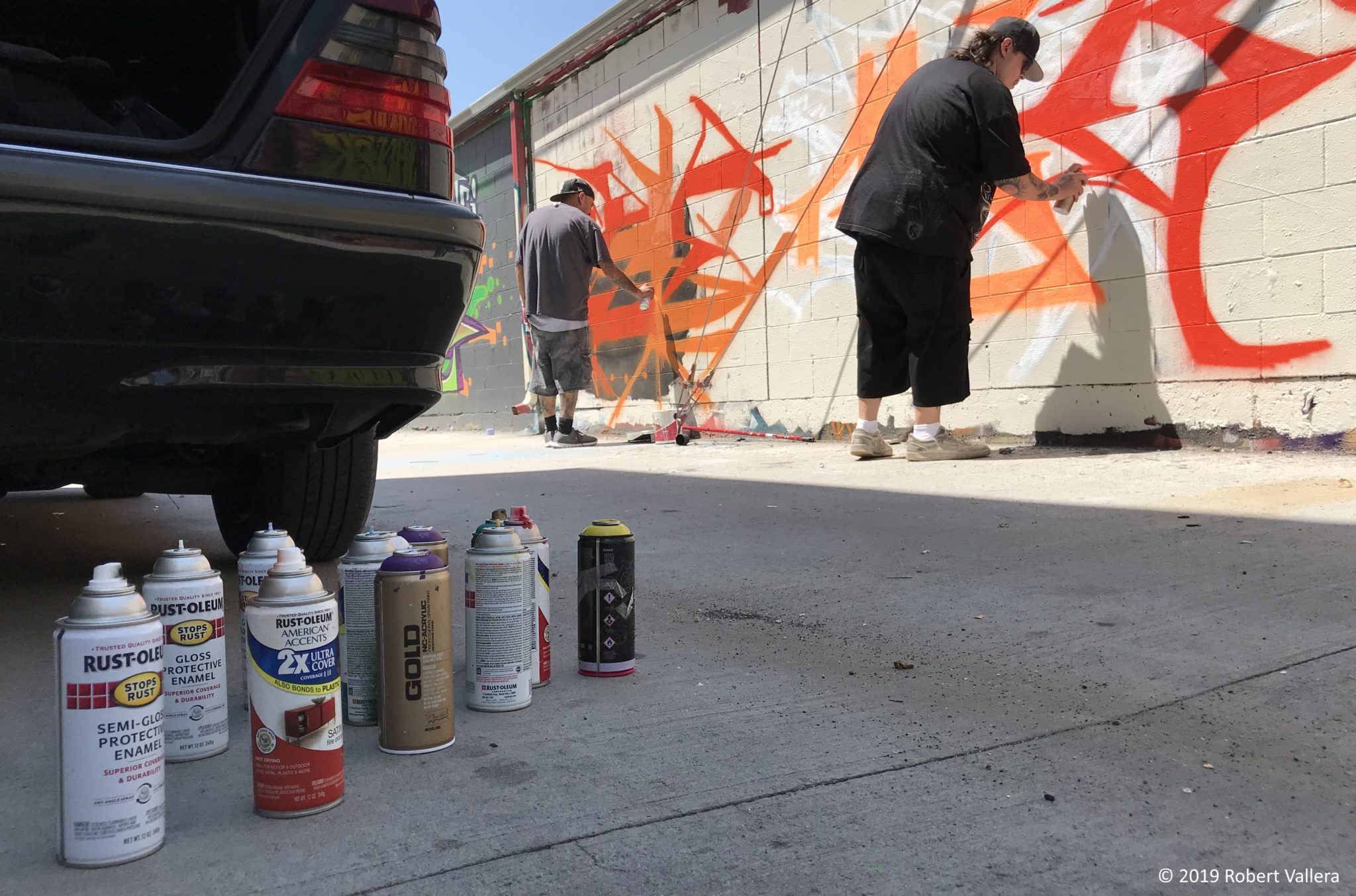 A Funked-Up, Eclectic Mix
Carlos had chosen his masonry canvas in an alley off Larimer Street in Denver's thriving River North (RiNo) Art District. RiNo is located immediately north of Downtown Denver and the Colorado Rockie's Coors Field venue. Its industrial roots are still evident, although rapidly yielding to new retail and multi-family development. Then there's the street art, everywhere you turn, adding a colorful vibe to the neighborhood.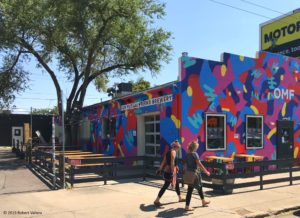 As we talked, Carlos drew some interesting comparisons between Denver and San Diego. While he's also well-acquainted with the Bay Area and Los Angeles, he considers San Diego and Denver to be more kindred in scale and vibe. Population metrics prove at least one of these points. Both regions are home to well over 3-million residents, not small, but downright cozy compared to LA and the Bay Area.
My home, San Diego County currently hosts 208 craft breweries and tasting rooms. However, I was surprised by the realization that I had never seen as large of a concentration of craft brewers as in the RiNo District. Of course, this is only a portion of the craft and commerce within RiNo. Art and design studios, co-work spaces, artisanal bakeries and coffee roasters abound.
The Importance Of Scale and Design
Larimer Street on the east side of RiNo has far more funked-up charm than the few blocks moving west towards the South Platte River. It appears that the smaller lots along Larimer have probably complicated land assemblage for new developments, to the neighborhood's benefit.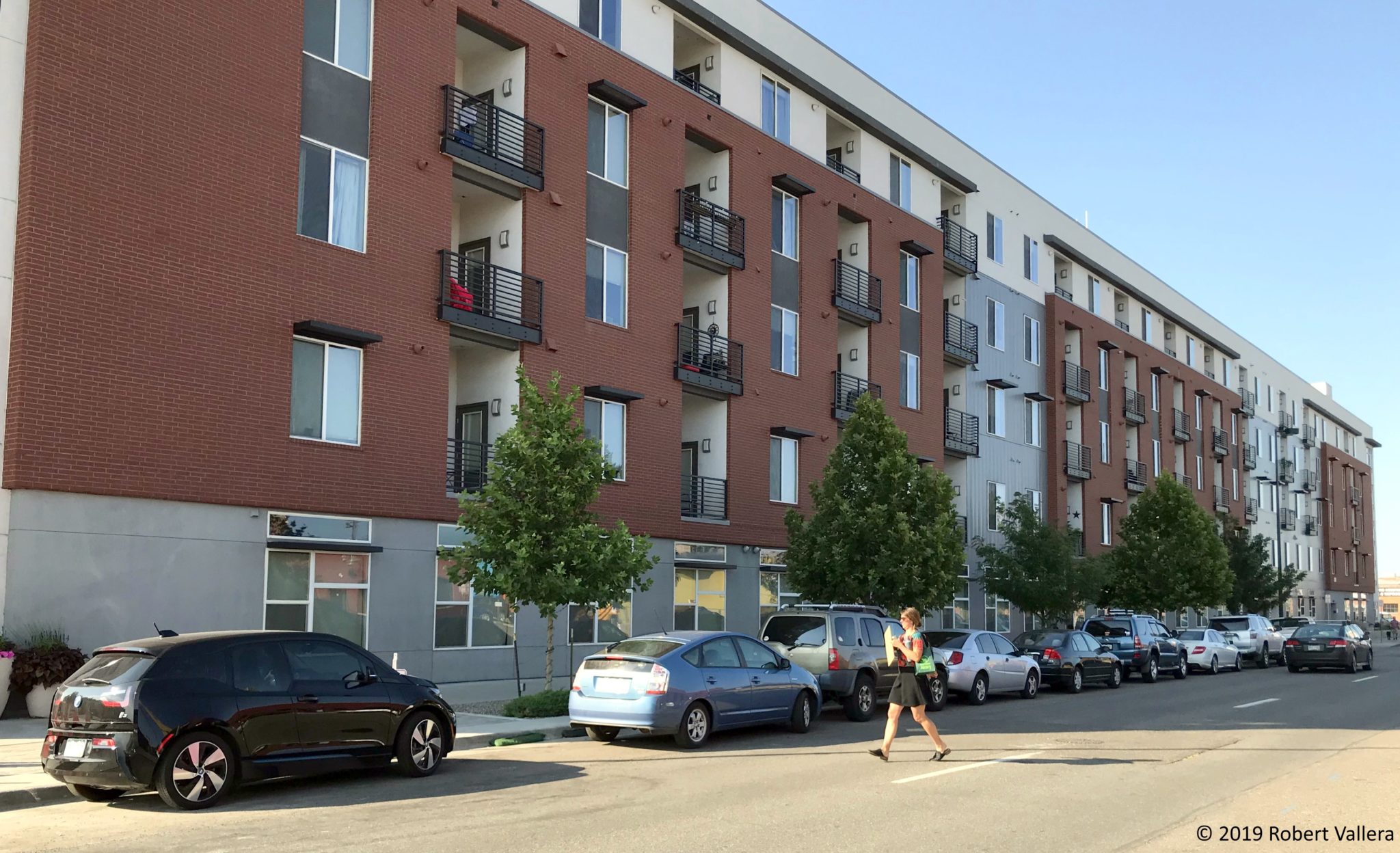 Walnut and Blake Streets to the west have already been extensively redeveloped, primarily with apartments and condominiums. These other streets lack the density of niche retail, arts, dining and entertainment venues more prominent along Larimer Street. Some of the newer buildings appear to be well designed, with attached residential units opening onto attractive, access-controlled entry courts.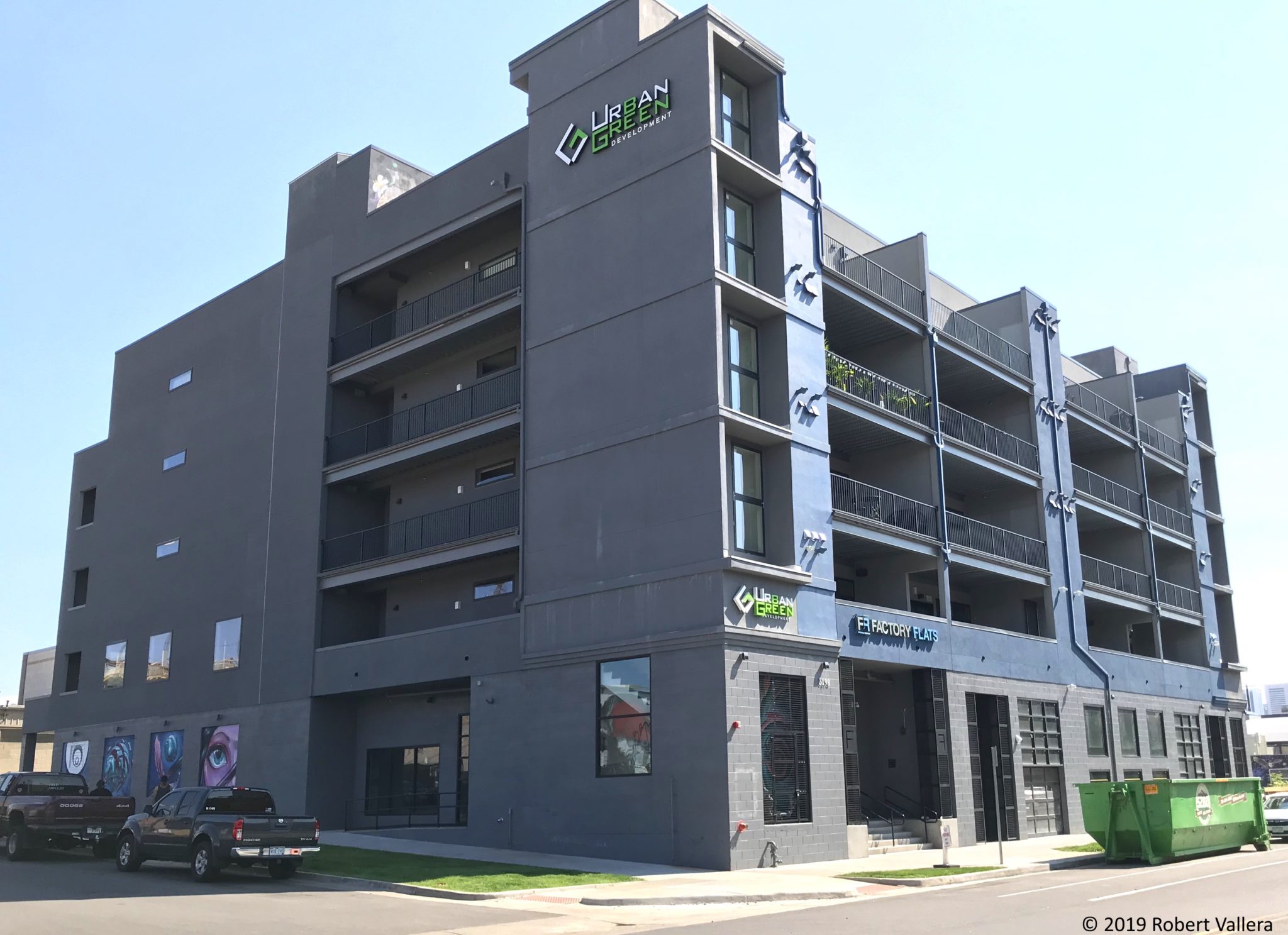 However, a few unfortunate projects are worthy of onion awards: real stinkers that degrade the RiNo district. A few of the larger new buildings feature monotonous designs that are out of scale with the neighborhood. Likewise, a few of the small and mid-size new developments appear to have sacrificed good design to what is, perhaps, a short-sighted attempt at economy.
The Trap Of False Economy
To some extent, the problem is rooted in development economics. Monotonous buildings can appear to perform far better on a developer's spreadsheet than a more varied design, that yes, is more expensive to construct. It can be very difficult to project and model the impact of an enhanced design on future rents. The various costs associated with incorporating good design into a project are more tangible than its benefits. It also doesn't it help that some people are almost oblivious about the contribution of an enhanced design to the bottom-line in the form of current and future rent premiums.
Developers skimping on design in eclectic neighborhoods such as RiNo can be worse than freeloaders. They might profit from the neighborhoods cachet in the short run while undermining its unique character. Economist use the term tragedy of the commons to describe such situations where a few can profit through actions that, if taken by many, will become destructive in the long run.
RiNo appears to be following a oft-repeated trend in gentrifying neighborhoods across the country. You know the pattern. Artists colonize neglected neighborhoods, taking advantage of dirt cheap rents to set up shop in previously vacant store fronts and industrial space. Once they establish a critical mass, they attract a more affluent demographic to the neighborhood, and the increased demand raises rents beyond the artists' threshold. Some of this is an inevitable cycle of real estate economics, and is preferable to urban decay. Just ask the people in Baltimore or Detroit if you doubt this. Personally, I'd rather be priced out of a neighborhood and move to cheaper digs than see my city decay around me from lack of reinvestment in deteriorating structures and the resulting erosion of the tax base.
The challenge in a gentrifying neighborhood is in figuring out how to avoid losing the character, such as RiNo's funked-up vibe, that attracted new residents into the community. Hopefully the players in RiNo's continuing redevelopment will have a good sense of how to preserve or enhance the Bohemian character, and retain some of the characters that attracted the recent influx of urban dwellers, along with their accompanying discretionary income. Otherwise, the community becomes a victim of its own success, and RiNo will be diminished in the coming decade. Time will tell.