A 135-year-old former bakery in San Diego's East Village now converts its grain into craft beer, providing an amenity for neighborhood residents. Sometimes neighborhood gentrification is driven by a change in land-use. 
Advantages of industrial roots
Fault zones as neighborhood amenities?
How location influences the age demographics
Recognizing the tipping point
An investment opportunity
By Robert Vallera CCIM
The Other Side
In the past century, San Diego's East Village was considered to be the other side of the tracks. This wasn't the neighborhood where elegant ladies and gentlemen ventured out to enjoy a night on the town. East Village was dominated by light industrial uses such as truck yards, small manufacturers and warehouses. Its current evolution is similar to the River North (RiNo) Arts District on the northwest side of Denver's CBD, described in this article. Both neighborhoods are transitioning this decade from light industrial to high-density residential housing that is attracting young residents with discretionary income.
With more San Diegans reversing the 20th Century's suburbanization trend by moving Downtown, East Village's industrial roots are no longer the highest and best use for this land. While relatively small in scale for industrial properties, the typical lot size in East Village is larger than those found in other Downtown districts where smaller retail storefronts were more common. The larger lots have made it easier for developers to cost-effectively assemble enough land to create well-designed, high-density apartment communities. In addition, the change in land-use doesn't trigger the politically and socially fraught dislocation of existing residents that occurs when residential neighborhoods gentrify.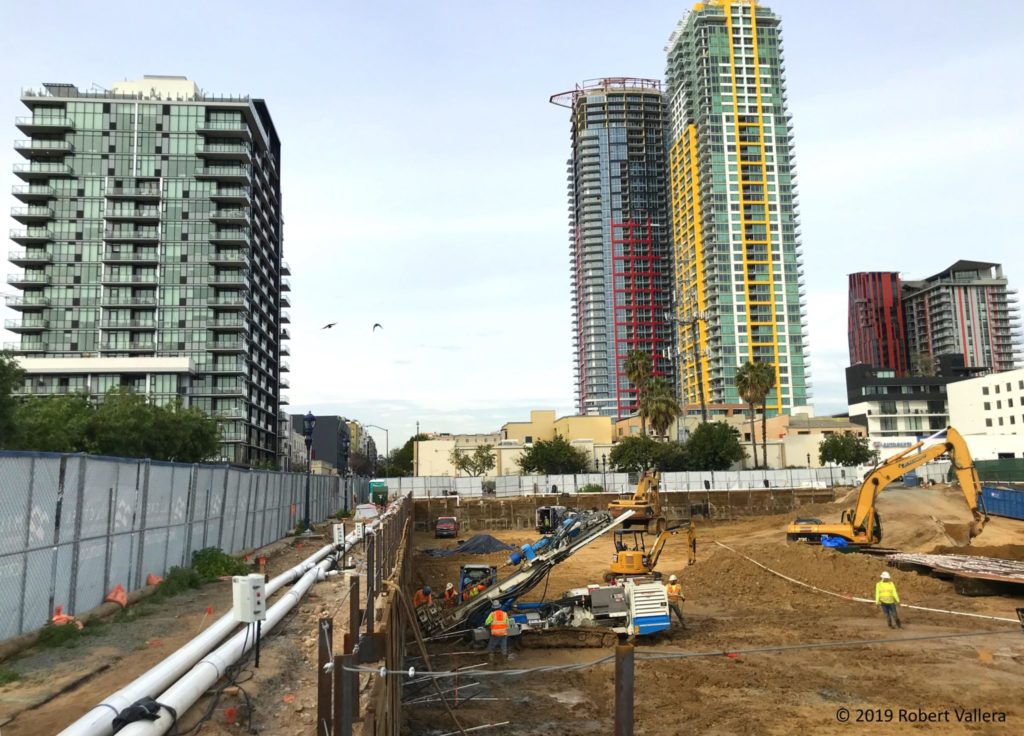 Living On The Fault Line
While San Diego is seismically stable relative to Los Angeles and San Francisco, there are several minor fault zones running through East Village. New developments can be constructed adjacent to the fault lines, though they cannot straddle the faults. This is resulting in a network of open spaces spreading like tentacles across the landscape. They include the aptly named Fault Line Park, adjacent to the newly constructed, twin 45-story Pinnacle Towers apartments.
Future generations are likely to consider the fault zones to be blessings. The odds of a damaging earthquake along these minor faults is tiny. However, San Diego's weather allows a year-around outdoor lifestyle, so the open spaces and parks along the faults are amenities that can be enjoyed on a daily basis by East Village residents.
How Location Influences Demographics
Many of the residential towers to the west towards San Diego's waterfront enjoy dramatic views over the harbor. Is it any surprise that they are primarily luxury condominiums? Unfortunately, those condominium towers at least partially obstruct harbor views from the East Village. With less view potential, much of East Village's new construction is targeted towards apartment rentals rather than for-sale condominiums. This in turn draws, on average, a younger slice of the demographic pie than other parts of Downtown.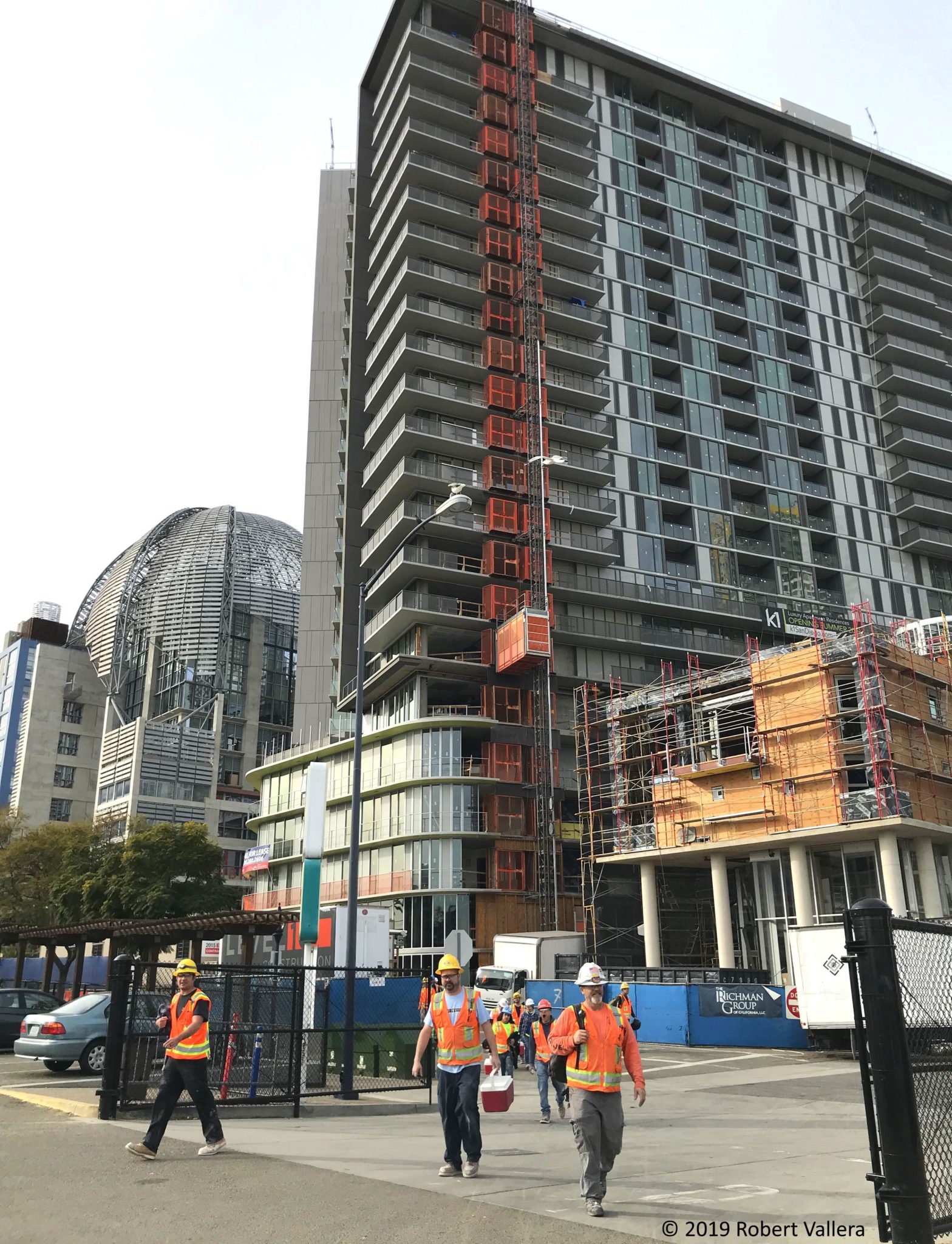 East Village is served by not just one, but three public transit stations. They provide residents with quick and easy access to multiple modes of transit including San Diego's expanding light rail system.
The presence of San Diego City College on the north side of East Village is another substantial amenity for the neighborhood. East Village residents can easily access an abundance of affordable daytime or evening classes offering career enhancing opportunities within walking distance of their apartments.
Similarly convenient, and practical in a different way, are a number of craft breweries and entertainment venues scattered through the neighborhood. All-in-all, the neighborhood boasts a well-rounded set of amenities for its residents.
Recognizing The Tipping Point
A background in urban geography has helped me successfully identify neighborhoods which are likely to gentrify. However, it's a far greater challenge to anticipate exactly when the change will accelerate, creating the momentum of a positive-feedback loop. When the transformation is driven by new development rather than renovation, research the leading edge of the development pipeline. The lengthy entitlement process in growth-constrained coastal cities improves the predictive power of this method.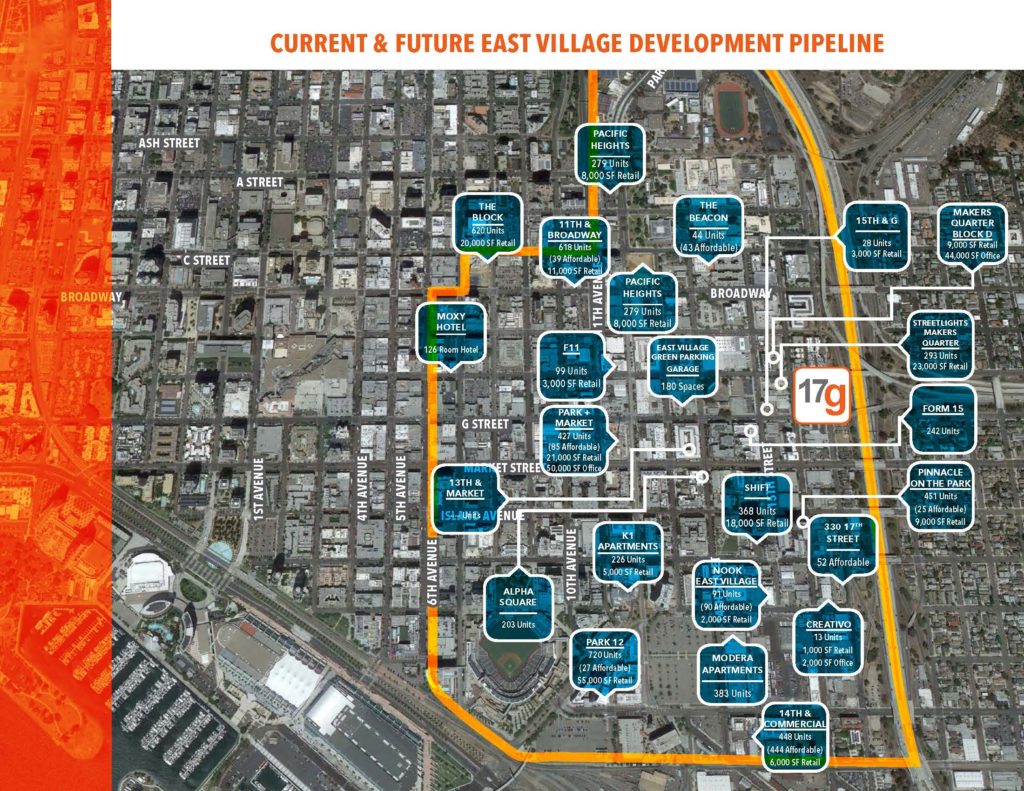 A decade ago, East Village was inhabited by a scattering of pioneers and described as Downtown San Diego's next frontier. The accompanying infographic of the East Village development pipeline displays projects that are pending, under-construction and recently completed. Some of the pending projects will be delayed as developers monitor the construction pipeline to avoid building into an over-supplied market. However, beyond those projects, the new opportunities will be limited to a scattering of remaining infill sites.
The San Diego Union-Tribune recently reported a significant reduction in East Village's homeless population, linking the reduction to the influx of new residents into the neighborhood. The buildings in the construction pipeline are expected to bring over 6,000 new residents into the neighborhood. Does that strike you as an accelerating positive-feedback loop?
An Investment Opportunity
You might be inclined to participate in the transformation or land-bank for future development. If so, my team here at Voit Real Estate is marketing a 42,000 square foot development site in East Village. The details are available here.
You Ain't Seen Nothing Yet
Many long time San Diego County residents have been, and will continue to be thrown for a loop these days when they visit East Village. One can imagine them thinking, if not saying out loud, "Wow, when did all this new development happen?"
To which I would reply, "Hold on, because the best is yet to come."